▶ Map of Myeong-dong's popular restaurants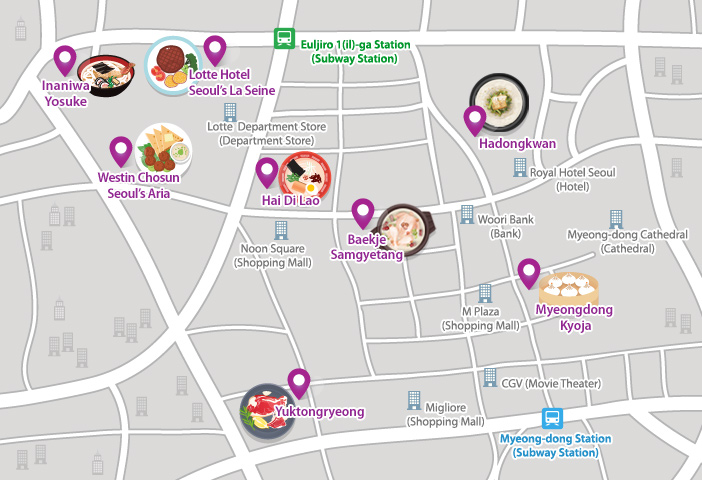 Myeong-dong is one of the most visited regions by international tourists in Seoul! Several restaurants can be found within the alleys, ready to serve the many people who flock to the area. From the elegant hotel buffet restaurants to long-established single dish restaurants, it is safe to say that Myeong-dong is heaven to food lovers.

For those who still haven't decided what to eat in Myeong-dong, you're in luck! This article lists eight of the most popular restaurants according to the results from one of Korea's widely used dining mobile apps. Whether it's Korean, Japanese, Chinese or Western cuisine you're looking for, choose any of the restaurants below and you will not be disappointed!
One-stop restaurant that has it all! Lotte Hotel Seoul's La Seine
At Lotte Hotel Seoul's La Seine, expert chefs show off their skills as they prepare delicious meals at a total of eight distinguished stations – Asian cuisine, Japanese cuisine, Western cuisine, noodles, cold meal, Korean grill, dessert, and beverage bar. The plethora of food is prepared to serve the appetites of all visitors. As a luxurious hotel buffet restaurant, fresh and quality ingredients are carefully selected at La Seine in order to provide a splendied dining experience.

Among the diverse cuisines available, the Japanese section is La Seine's most prized station in particular as the chef prepares sushi right on the spot upon order, giving one the feeling of being at a traditional Japanese restaurant. Approximately 200 delightful menus are prepared daily, with grilled lamb chops for lunch on weekdays, lobster for dinner and weekends; other menus include king crab, rice noodles, and curry.
All-in-one exquisite feast! Westin Chosun Hotel Seoul's Aria

As the representative restaurant of Westin Chosun Hotel Seoul, Aria offers a plethora of extravegant menus where you can enjoy a course meal of appetizers, main dish and desserts all at one place. With live cooking stations dedicated to Korean & Chinese cuisine, Japanese cuisine, grill, pasta, salad, and more, sizzling sounds and savory smells will stimulate your senses while you indulge yourself . Each cooking station presents the hotel's specialized menus on a real-time basis. In particular, the Asian cuisine station has much to offer while the fancy dessert section is popular among guests with a sweet tooth.
Collaboration of juicy dumplings and noodles! Myeongdong Kyoja

Myeongdong Kyoja has become a landmark of Myeong-dong with its specialties of kalguksu (noodle soup) and mandu (dumplings) for the past 50 years. The restaurant gained even more popularity after it was awarded with the Bib Gourmand distinction by the Michelin Guide. The hand-made, dough noodles and diced meat in chicken broth go splendidly well with the restaurant's other specialty, mandu. The mandu is scrumptiously filled with meat and vegetables, oozing out juice in every bite. Myeong-dong Kyoja is also well known for their generous services as additional noodles and rice are provided free of charge upon request.
Chicken soup to nurture your body! Baekje Samgyetang
Baekje Samgyetang specializes in samgyetang (ginseng chicken soup). The restaurant provides menus written in English, Japanese and Chinese, allowing non-Korean speakers to order with ease. The restaurant's specialty is made of tender chicken boiled over a long period of time along with nutritious ingredients such as glutinous rice, garlic, chestnut, ginseng, jujube and more. The mouth-watering chicken goes well with the chewy texture of rice, and the healthy broth is too delicious to be left unfinished.

The ginseng liquor and chalbap (cooked glutinous rice) that come along with samgyetang are also noteworthy. The alcohol made of ginseng, a well-known high-quality medicinal herb, goes so well with samgyetang that many people make a separate purchase of this impressive liquor. Chalbap has an interesting chewy texture different from regular cooked rice.
Specializing in gomtang for 70 years! Hadongkwan

Since its opening in 1939, Hadongkwan has become quite famous. During lunch time, people can be seen willingly waiting in line for a hearty meal of gomtang (bone soup). Gomtang, a soup made of meat and bones boiled to broth for hours, is a well-recommended winter dish that will fill your stomach and keep you warm. Hadongkwan was also awarded with the Bib Gourmand designation by Michelin Guide for serving a delicious meal at a reasonable price.

Hadongkwan's gomtang is available in two different versions: regular soup with only beef in it and the special soup, which includes intestines that add a stronger savory taste. Gomtang is served with rice mixed into the soup along with kimchi on the side. You can add more flavors into the soup by adding in the condiments provided such as diced spring onions, salt, and pepper to your preference.
Mouthwatering taste of Jirisan Mountain black pork! Yuktongryeong

As the only restaurant where one can get a taste of the famous Jirisan Mountain black pork in Seoul, Yuktongryeong flourishes with customers every day. The restaurant's popularity greatly increased thanks to its appearance in the variety television show "The Demand of Luxurious Food." The most popular menu in this restaurant is grilled skin-on black pork. As its name implies, unlike the regular pork belly meat, skin-on pork belly is cut along with the skin to create a chewy texture.

The original flavor of the meat can be tasted by lightly dipping the grilled pork belly in salt or jeotgal (salted seafood). Enjoy the grilled meat with the salad and side dishes served to clear out any after taste. Another popular menu, kimchi jjigae (kimchi stew) is also an excellent partner with the skin-on pork belly.
Special noodles from Japan! Inaniwa Yosuke

Inaniwa Yosuke, located near Seoul City Hall, is Korea's branch of a restaurant named Sato Yosuke in Japan that has been specializing in udon for the past 350 years. The restauarant also made its way to Michelin Guide's list of Bib Gourmand and is one of the top three must-eat udon in Japan. The udon featured at these restaurants are characterized by thin, flat noodles that have a chewy texture.

Their signature menus are seiro udon and hot soup udon. Seiro udon is served cold with two different sauces to dip your noodles in: the tsuyu sauce and the sesame miso sauce. Each sauce has its own unique flavor that will stimulate your tastebuds. The recommended side menu to go along with the noodles is shrimp cream croquette, a delicious combination of smooth cream and shrimp filling covered with a crispy crust. The restaurant also sells Inaniwa udon noodles and their special sauces separately for Inaniwa udon at home or to make for an excellent gift.
Chinese traditional hot pot in Korea! Hai Di Lao

Hai Di Lao is a hot pot restaurant franchise that has its main branch in China. A plethora of ingredients such as meat, seafood, vegetables, tofu and more are dipped into a boiling broth in this Chinese style shabu shabu cuisine.

Hai Di Lao implements modern technology into their ordering system. As soon as you sit at a table, you will be given an iPad to place your order. You can choose the soup base, meat, vegetables and any other ingredients you wish to add to your hot pot. The total price of the hot pot depends on the ingredients you choose.

There are four types of soup base to choose from – spicy mala soup with a kick of Chinese spice, mushroom soup, tomato soup, and the meaty samseontang soup broth. Once you have decided on your preferred soup base, continue your order by choosing your ingredients from beef, pork, lamb, seafood, dumplings, vegetables, mushrooms, tofu, noodles, and much more.

You'll be surprised at Hai Di Lao's customer service as the staff's assistance is as impressive as their meals. Not only are Chinese-speaking staff always readily available to care for the needs of the large number of Chinese tourists, but they also offer shoe cleaning and nail art services for free!
* This column was last updated in December 2018, and therefore information may differ from what is presented here. We advise you to check details from the official websites before visiting.